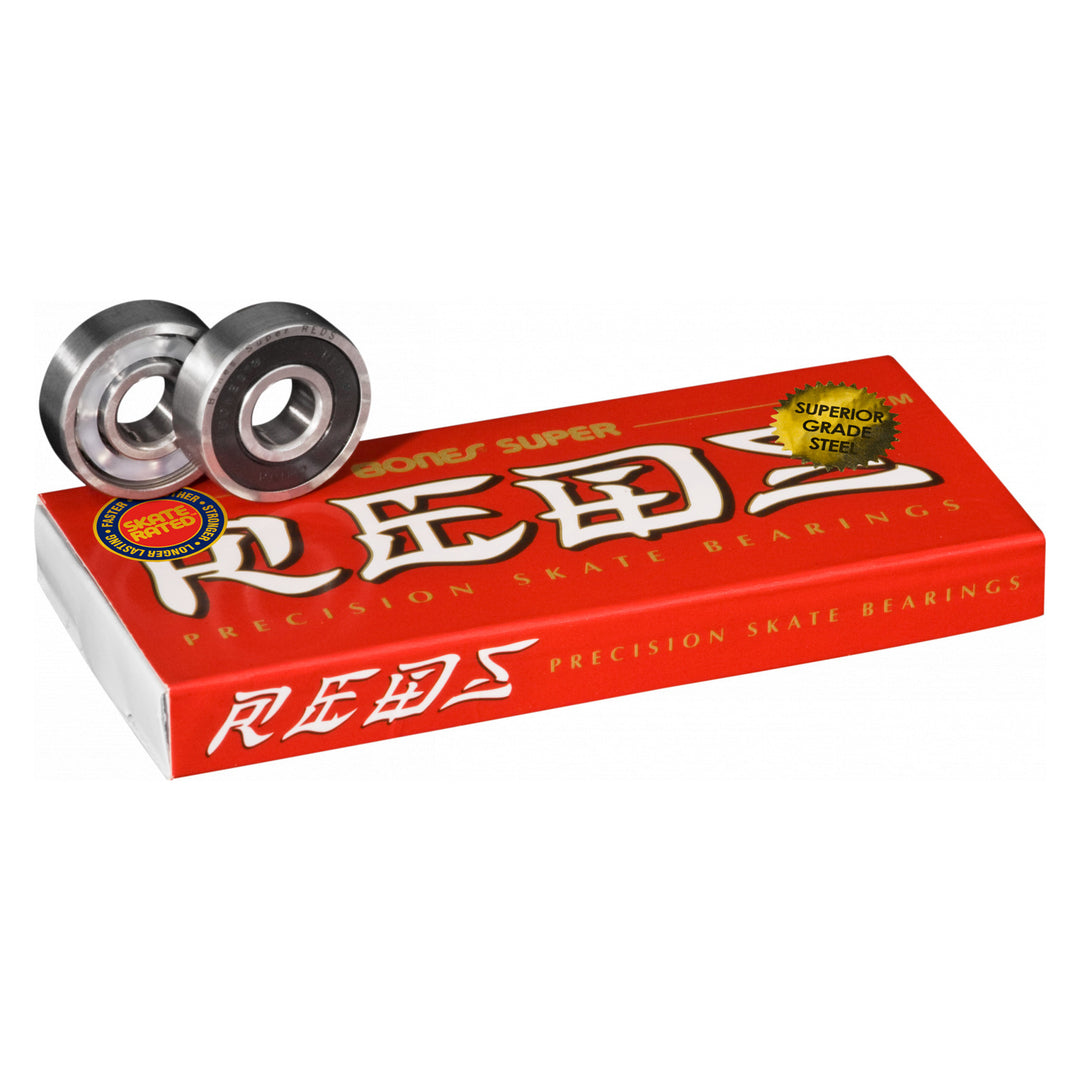 Bones Super Reds Bearings
Free US Shipping On Orders $60+
In stock, ready to ship

Inventory on the way
---
*All shoe/boot sizes listed in unisex/mens sizing.
Bones Super Reds Skateboard Bearings
Set of 8 bearings (Enough for 4 wheels)
Super REDS® are designed from the ground up to be the best bearing on the market at this price point. What Super REDS are not is a REDS bearing with just better super finishing (surface polishing). Super REDS are a superior quality bearing, using higher quality steel races, better quality and grade balls, and a superior surface finish. The result is a bearing that is as fast as REDS but quieter, smoother, and longer lasting. Super REDS use a black shield and laser engraving to differentiate themselves from original REDS.
Features Higher quality steel races, better quality and grade balls, and a superior surface finish.
Single, non-contact, removable rubber shield for easy cleaning and less friction.
High speed nylon ball retainer for greater strength and speed.
Pre-lubricated with Speed Cream™ racing lubricant
Skate Rated™ clearances, tolerances, materials and lubricant provide the best performance and durability possible.
Fast & FREE US Shipping on all orders over $60!
(48 contiguous states)
All orders will be shipped directly from our EasternBoarder locations.  If you order items that are in both locations you may receive multiple shipments.  In this event you will receive multiple shipping confirmation emails from us w/ all of your tracking numbers.
We process orders 7 days a week and pack orders as fast as we can.  Most orders receiving tracking numbers with 3-6 hours during operating hours.
Orders over the weekend are packed and shipped however pickups are only Monday-Friday.  So you might receive your tracking number over the weekend but tracking might not update til the following Monday or Tuesday.
Please keep in mind UPS & USPS doesn't always pick up or deliver on Holidays or Weekends.
*All Vans products are excluded from International Shipping
*If within 30 days of receipt or delivery date of your order & the item is still in new condition with all packaging and/or labels you should be good!
All eligible orders can receive a refund, credit, or exchange. (See conditions of specific items & eligibility here) Standard manufacturer warranties will also be honored.
HOW TO RETURN YOUR ITEM?
Please email orders@easternboarder.com and include:
Order # or e-mail used
Item you'd like to return
Desired refund (credit, refund, exchange)
We will email you back with 24 hours setting up the return and providing you with a label.