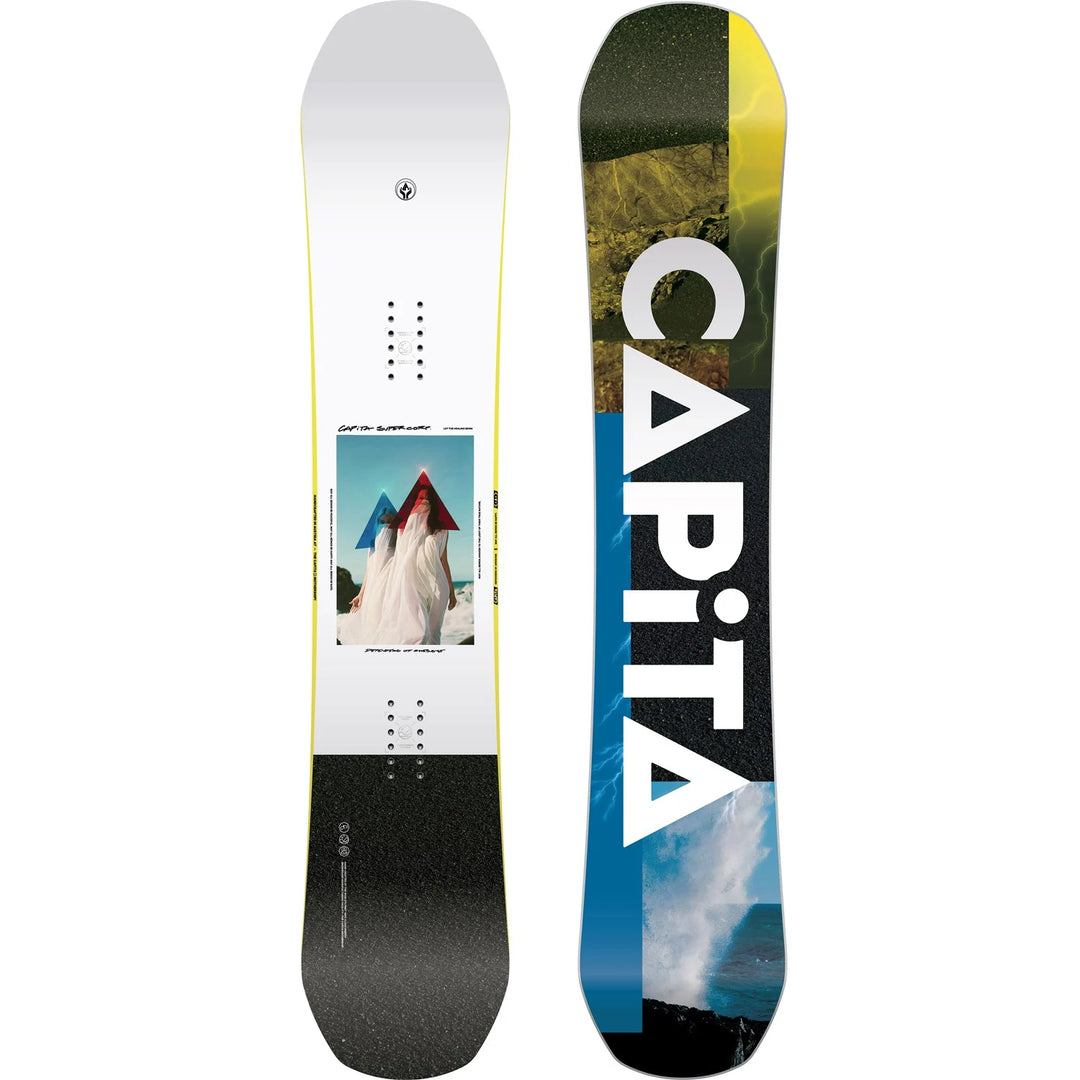 Capita Defenders Of Awesome Snowboard 2024
Free US Shipping On Orders $60+
Low stock - 2 items left

Inventory on the way
---
*All shoe/boot sizes listed in unisex/mens sizing.
Product Info

The CAPiTA Defenders of Awesome Snowboard is for riders who want to be remembered as heroes of shred. On the right side of history, whether regular footed or goofy. This board is on some intergalactic Excalibur wavelength, a weapon of righteous rad that'll slice through the BS and just plain rip. Park, high speed groomers, pow, leftovers, steeps, whatever: this is the choice for hot-dogging boardriders who prefer a cambered twin. With the future of Awesome at stake, how could you afford to ride anything else?
Rocker Type
Resort V1 Profile – RESORT V1 Profile boards take full advantage of the benefits of traditional camber, zero camber, and reverse camber. This next generation design allows you to get the pop and response of a cambered board with all the predictability and easy turn initiation of zero camber or reverse camber shapes.

Flex
Flex Rating – 5.5 (1 Soft - 10 Stiff)
Shape
Blended Radial Sidecut – BLENDED RADIAL sidecuts feature a single radius arc through the midsection of the board combined with a custom designed blend zone at the contact points. Varying the length of these blend zones and tailoring them specifically for certain aspects of riding greatly improves a board's performance.
Core
FSC Certified P2 Superlight Core™ – The P2 SUPERLIGHT CORE™ is an extremely lightweight core engineered to withstand high impact and deliver maximum pop. Comprised of an even mix of Poplar and Paulownia wood, the P2 is FSC® Certified and ready to dominate in any environment.
Laminates
Carbon Fiber Boosters – Increases power and response while remaining ultralight.
Magic Bean Resin – This advanced resin system has a bio-content of 60% renewable, agricultural raw material and is produced with no waste or greenhouse emissions. In production, it has a low-temperature requirement with a high yield output. Poppy, powerful, and extremely durable, MAGIC BEAN™ resin yields much stronger and more rigid qualities allowing a decrease in the wood core thickness. This means you get a lighter board while achieving higher energy return.
Special Blend Fiberglass – This configuration uses an optimum blend of 626g/m2 Biaxial fiberglass laminated in conjunction with structural additives to customize performance objectives.
Sidewalls
Fortress™ Kevlar Bound Sidewalls – With seven Transworld Good Wood Awards in six years for the D.O.A. series, it's clear that the performance and value of these boards are unmatched. FORTRESS™ KEVLAR BOUND SIDEWALLS are bonded by a Kevlar "S" wrap from the top of the sidewall to the underside of the core. This lightweight technology binds the sidewall and core material together like no other.
Base
Quantum Drive™ Base – The QUANTUM DRIVE™ running base is formulated with a progressive blend of compressed ultra-high-molecular-weight polyethylene. As an evolution from the already blazing fast ULTRADRIVE™, this running base features higher density for durability and absorbs more wax to wick longer and ride faster. Properly maintained sintered bases are fast, durable, and are the preferred choice of many high-end enthusiasts worldwide.
Topsheet
PAM16000™ Topsheet with Metallic Underlay
PLT™ Topsheet Technology – PLT™ technology is exclusive to CAPiTA MFG and magically bonds the topsheet to an already pressed snowboard.
Graphics
Multitech™ Level 5 DeepSpace™ Silkscreen – The DEEPSPACE™ Design Theory takes advantage of the thickness of a transparent topsheet. Strategically layering ink on multiple levels from the top and the bottom imbues graphics with a sense of life through depth.
Binding Compatibility
Stainless Steel 2 x 4 Inserts
Fast & FREE US Shipping on all orders over $60!
(48 contiguous states)
All orders will be shipped directly from our EasternBoarder locations.  If you order items that are in both locations you may receive multiple shipments.  In this event you will receive multiple shipping confirmation emails from us w/ all of your tracking numbers.
We process orders 7 days a week and pack orders as fast as we can.  Most orders receiving tracking numbers with 3-6 hours during operating hours.
Orders over the weekend are packed and shipped however pickups are only Monday-Friday.  So you might receive your tracking number over the weekend but tracking might not update til the following Monday or Tuesday.
Please keep in mind UPS & USPS doesn't always pick up or deliver on Holidays or Weekends.
*All Vans products are excluded from International Shipping
*If within 30 days of receipt or delivery date of your order & the item is still in new condition with all packaging and/or labels you should be good!
All eligible orders can receive a refund, credit, or exchange. (See conditions of specific items & eligibility here) Standard manufacturer warranties will also be honored.
HOW TO RETURN YOUR ITEM?
Please email orders@easternboarder.com and include:
Order # or e-mail used
Item you'd like to return
Desired refund (credit, refund, exchange)
We will email you back with 24 hours setting up the return and providing you with a label.