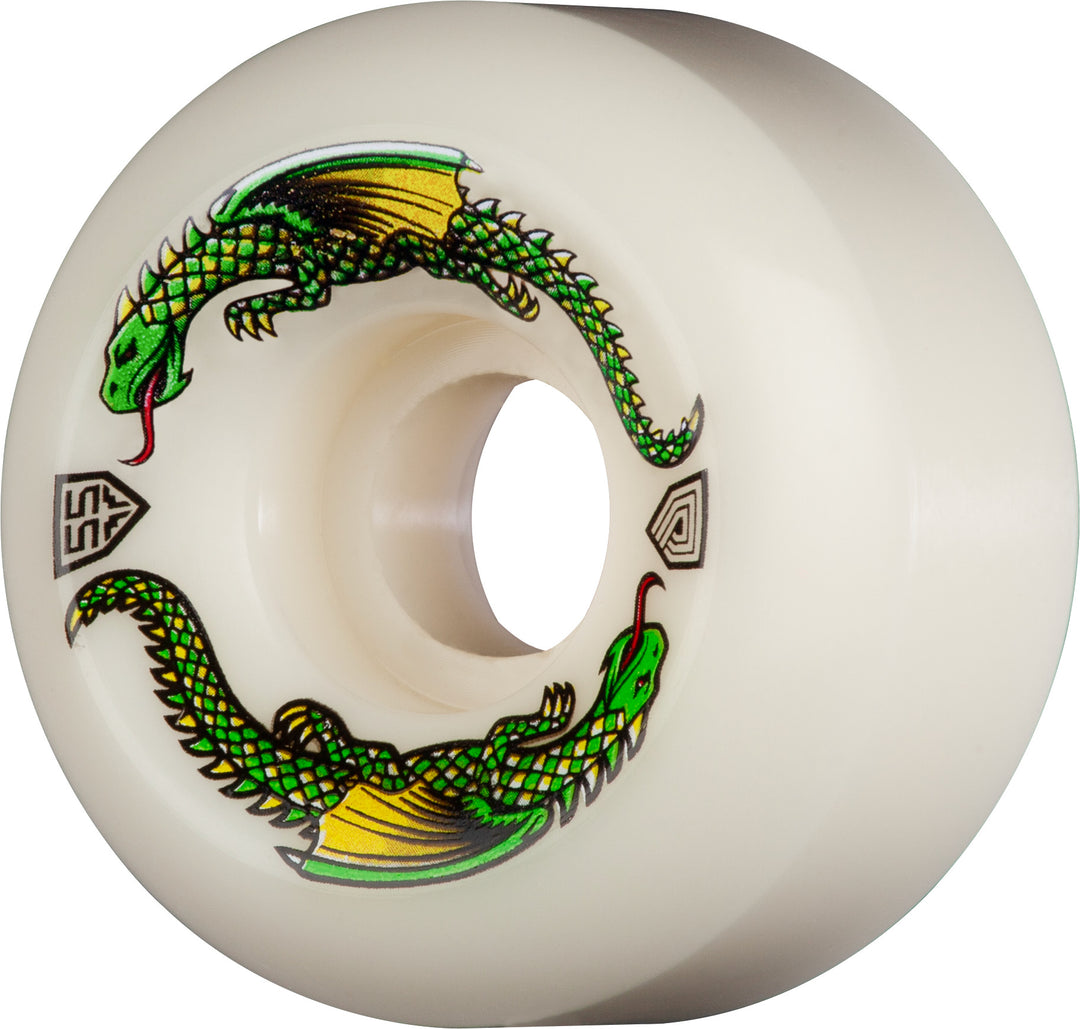 Powell Dragon Formula White Wheels 93a 55 x 35mm
Free US Shipping On Orders $60+
Low stock - 1 item left

Inventory on the way
---
*All shoe/boot sizes listed in unisex/mens sizing.
Powell Dragon Formula White Wheels 93a 55 x 35mm
About Dragon Formula: The amazing new Dragon Formula™ (DF) Urethane used to create these wheels is another industry leading innovation from Powell • Peralta. DF-93A Dragons will not only roll over rough terrain, but also grip and slide like 99A and 101A wheels do, so that you can do all your normal tricks and more on the greater range of skate terrains made skateable by its softer 93A hardness.


Speed: Dragons are very fast because DF-93A is super high rebound, an industry leading 18-20% higher than hard wheels. This higher rebound means you won't lose speed in bowls or parks the way you would with an ordinary 93A wheel, and you will roll much smoother and faster on rough streets and sidewalks…even in places you used to have to walk your board.

Grip & Slide: Dragons slide on both rough and smooth terrains, and also grip when you need it. This is because Dragon Formula is not just an ordinary mid-90's wheel formula. It has been developed over a ten year period to optimize and fine tune it to perfection. No other wheel can do what these Dragons can.

Durability: Dragon Formula is not only smooth, fast and slidable, it is also durable. The slidability comes from its unique blend of high performance materials by making the urethane weak so it will slide as the urethane wears away, not creating flats spots. Dragons are very long lasting so they are not only better skating, they are a great value too.
Fast & FREE US Shipping on all orders over $60!
(48 contiguous states)
All orders will be shipped directly from our EasternBoarder locations.  If you order items that are in both locations you may receive multiple shipments.  In this event you will receive multiple shipping confirmation emails from us w/ all of your tracking numbers.
We process orders 7 days a week and pack orders as fast as we can.  Most orders receiving tracking numbers with 3-6 hours during operating hours.
Orders over the weekend are packed and shipped however pickups are only Monday-Friday.  So you might receive your tracking number over the weekend but tracking might not update til the following Monday or Tuesday.
Please keep in mind UPS & USPS doesn't always pick up or deliver on Holidays or Weekends.
*If within 30 days of receipt or delivery date of your order & the item is still in new condition with all packaging and/or labels you should be good!
All eligible orders can receive a refund, credit, or exchange. (See conditions of specific items & eligibility here) Standard manufacturer warranties will also be honored.
HOW TO RETURN YOUR ITEM?
Please email orders@easternboarder.com and include:
Order # or e-mail used
Item you'd like to return
Desired refund (credit, refund, exchange)
We will email you back with 24 hours setting up the return and providing you with a label.