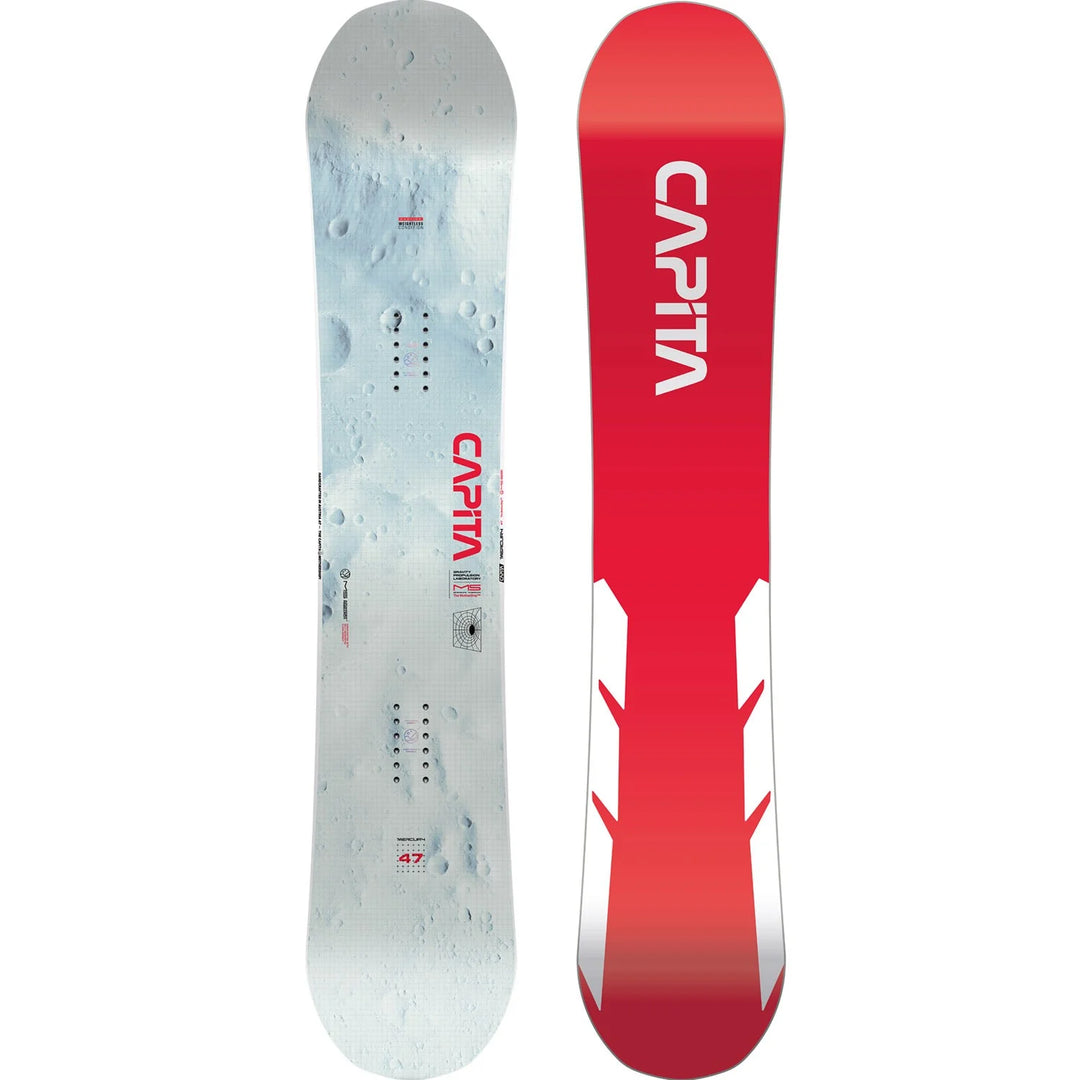 Capita Mercury Snowboard 2024
Free US Shipping On Orders $60+
Low stock - 1 item left

Inventory on the way
---
*All shoe/boot sizes listed in unisex/mens sizing.
Sidehit hunters with that transition x-ray vision will love the new CAPiTA Mercury Snowboard. This weapon is happiest when carving through choppy snow, maintaining its stability and composure while laughing in the face of tracked-out terrain. It's perfect for seeking out hidden stashes of powder and creative cat track transfers, where it can charge harder and boost higher than seems prudent. Designed for riders who seek boost and roost, the CAPiTA Mercury Snowboard is a versatile option that can handle any challenge the mountain throws at it.
Rocker Type
Resort V2 Directional Profile – This revolutionary all-terrain shape provides the best of both worlds. It has a raised camber platform through the inserts to retain high-speed edge hold through variable terrain, elevated contact points to land and float in powder, and Flat Kick tip and tail arcs for faster, more aggressive transitions.

Flex
Flex Rating – 6.5 (1 Soft - 10 Stiff)
Shape
New Age Directional – NEW AGE DIRECTIONAL sidecuts are progressive sidecuts, which also incorporate a reverse sidecut arc in the midsection of the board. Due to a reduced effective edge as a result of hybrid camber shapes, this reverse camber arc provides a point of contact to retain control throughout the turn and is affectionately referred to as DEATH GRIP™.
Core
Hover Core – An energetic core that is ultra light and strong with excellent dampening properties.
Laminates
Amplitex™ V-Tech Amplifier – Amplitex™ is a next-generation natural flax fiber woven with carbon strands that is featured in high-end snowboard constructions. This fusion tape brings the best of two worlds: the reactive energy of carbon and the lightweight and dampening aspects of flax. The two fibers are highly compatible since they have similar properties regarding thermal expansion and failure strain, creating a uniformly flexing reinforcement that's light, snappy and durable all in one.
Magic Bean Resin – This advanced resin system has a bio-content of 60% renewable, agricultural raw material and is produced with no waste or greenhouse emissions. In production, it has a low-temperature requirement with a high yield output. Poppy, powerful, and extremely durable, MAGIC BEAN™ resin yields much stronger and more rigid qualities allowing a decrease in the wood core thickness. This means you get a lighter board while achieving higher energy return.
Holysheet™ Fiberglass – The HOLYSHEET™ fiberglass configuration features fiber weaves with a high tensile strength and low modulus of elasticity. With a higher roving count in the same weight of glass, you can have a stronger and more responsive board without adding extra weight. It features Triaxial fiberglass on top of the core and Biaxial fiberglass beneath, creating a perfectly blended ride while increasing strength and durability.
Base
Hyperdrive™ Base – Exclusively formulated, sintered, ultra-high molecular weight, ultra-high density polyethylene, custom engineered with special additives. Rated for the most depraved speed junkies only.
Topsheet
PAM16000™ Topsheet with Metallic Underlay
PLT™ Topsheet Technology – PLT™ technology is exclusive to CAPiTA MFG and magically bonds the topsheet to an already pressed snowboard.
Graphics
Multitech™ Level 6 DeepSpace™ Silkscreen – The DEEPSPACE™ Design Theory takes advantage of the thickness of a transparent topsheet. Strategically layering ink on multiple levels from the top and the bottom imbues graphics with a sense of life through depth.
Binding Compatibility
Stainless Steel 2 x 4 Inserts
Fast & FREE US Shipping on all orders over $60!
(48 contiguous states)
All orders will be shipped directly from our EasternBoarder locations.  If you order items that are in both locations you may receive multiple shipments.  In this event you will receive multiple shipping confirmation emails from us w/ all of your tracking numbers.
We process orders 7 days a week and pack orders as fast as we can.  Most orders receiving tracking numbers with 3-6 hours during operating hours.
Orders over the weekend are packed and shipped however pickups are only Monday-Friday.  So you might receive your tracking number over the weekend but tracking might not update til the following Monday or Tuesday.
Please keep in mind UPS & USPS doesn't always pick up or deliver on Holidays or Weekends.
*All Vans products are excluded from International Shipping
*If within 30 days of receipt or delivery date of your order & the item is still in new condition with all packaging and/or labels you should be good!
All eligible orders can receive a refund, credit, or exchange. (See conditions of specific items & eligibility here) Standard manufacturer warranties will also be honored.
HOW TO RETURN YOUR ITEM?
Please email orders@easternboarder.com and include:
Order # or e-mail used
Item you'd like to return
Desired refund (credit, refund, exchange)
We will email you back with 24 hours setting up the return and providing you with a label.