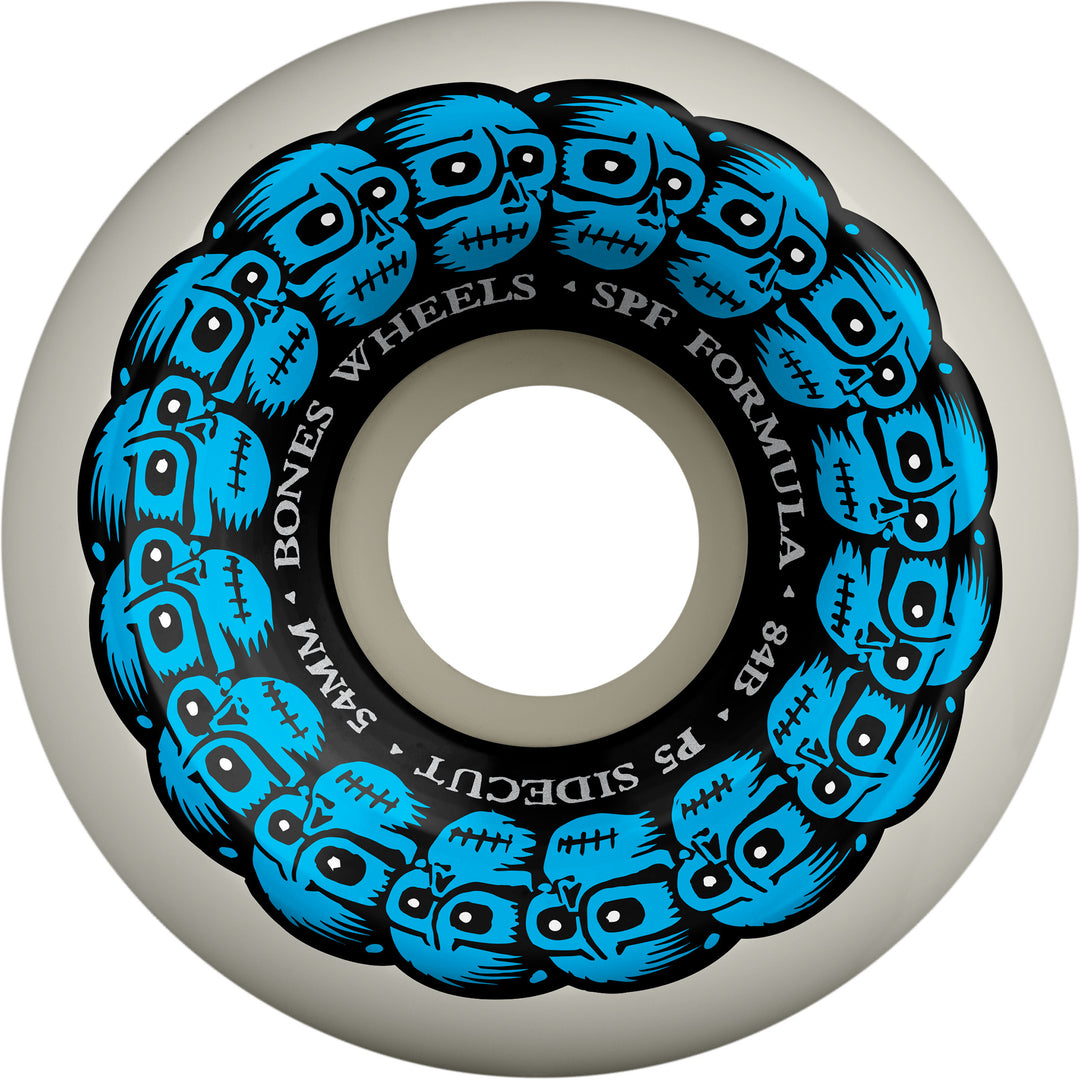 Bones SPF Circle Skulls Sidecut P5 Wheels 84B 54mm
Free US Shipping On Orders $60+
Low stock - 2 items left

Inventory on the way
---
*All shoe/boot sizes listed in unisex/mens sizing.
Bones SPF Circle Skulls Sidecut P5 Wheels 84B 54mm
Size: 54mm

ABOUT SKATE PARK FORMULA™ (SPF)
Skatepark Formula™ (SPF) is very high quality urethane specifically formulated to resist flatspotting on slick or smooth surfaces while maintaining a higher rebound for a quicker response and a faster roll.

Skatepark Formula™ has a high resistance to abrasion while not compromising hardness and slide ability. Simply put… Skatepark Formula wheels grip better on slick surfaces, are almost impossible to flatspot, and are the fastest, longest lasting wheel on the market today.

You won't find our Skatepark Formula from any other wheel supplier so get a set and find out for yourself what the word on SPF is all about.

ABOUT DUROMETER B SCALE
Shore Durometer A Scale is good, but it does not cover the entire range of skate wheel hardness and is very limited because the scale goes from 1 to 100 and anything over A 95A does not compute accurately.

Shore Durometer B Scale is perfect for skate wheels because:

It is very similar to the A Scale, but reads 20 points lower, allowing the useful scale to be extended by 20 points, which covers the entire hardness range of skate wheels in one scale. It uses the same soft spring as the A Gauge, but the conical gauge needle of the D Scale.
Because the spring is soft, the B Scale gauge needle does not puncture the skin of the wheel surface, resulting in the same reliable reading as the A Scale does.
Shore Durometer D Scale is designed for hard rubbers and rock hard urethanes, not soft, bouncy urethanes that are used in skate wheels. It has a very stiff spring behind its sharp conical needle and often punctures the skin of the wheel being measured, this resulting in 5-10 points softer reading than is correct. Thus, Shore D Scale should not be used for wheels in the useful skate wheel range.
Fast & FREE US Shipping on all orders over $60!
(48 contiguous states)
All orders will be shipped directly from our EasternBoarder locations.  If you order items that are in both locations you may receive multiple shipments.  In this event you will receive multiple shipping confirmation emails from us w/ all of your tracking numbers.
We process orders 7 days a week and pack orders as fast as we can.  Most orders receiving tracking numbers with 3-6 hours during operating hours.
Orders over the weekend are packed and shipped however pickups are only Monday-Friday.  So you might receive your tracking number over the weekend but tracking might not update til the following Monday or Tuesday.
Please keep in mind UPS & USPS doesn't always pick up or deliver on Holidays or Weekends.
*If within 30 days of receipt or delivery date of your order & the item is still in new condition with all packaging and/or labels you should be good!
All eligible orders can receive a refund, credit, or exchange. (See conditions of specific items & eligibility here) Standard manufacturer warranties will also be honored.
HOW TO RETURN YOUR ITEM?
Please email orders@easternboarder.com and include:
Order # or e-mail used
Item you'd like to return
Desired refund (credit, refund, exchange)
We will email you back with 24 hours setting up the return and providing you with a label.