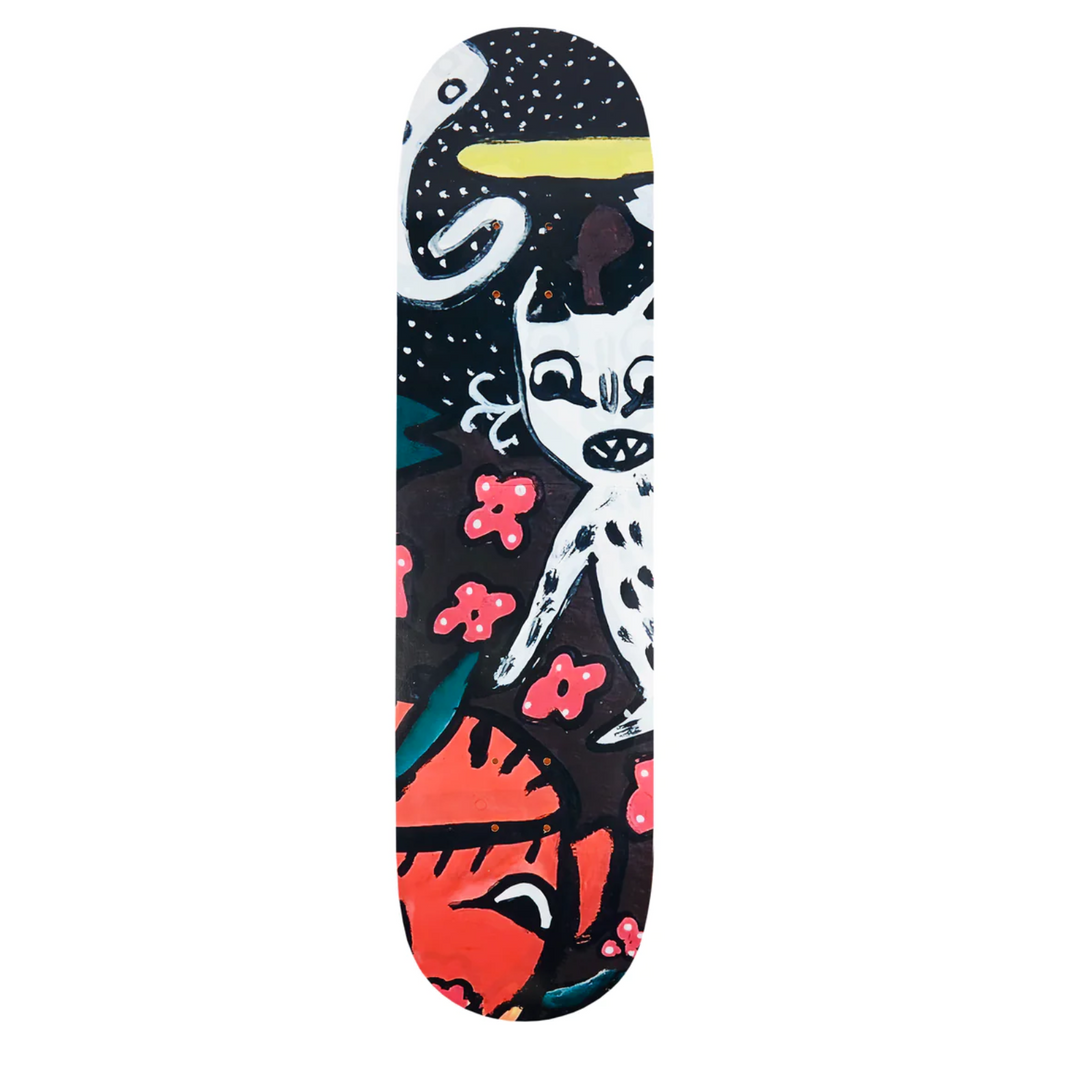 Alltimers Alexis NVA Deck 8.5"
Free US Shipping On Orders $60+
Low stock - 2 items left

Inventory on the way
---
*All shoe/boot sizes listed in unisex/mens sizing.
Alltimers Alexis NVA Deck 8.5"
14.5" Wheelbase

Alltimers is proud to announce their second project with NVA.

"New Vision Art School was founded in 2017 in Port-Au-Prince, Haiti by artist Lesly Pierre Paul. Its mission has been to serve young artists of the community, providing them with the materials and support to express themselves through painting. This board series features a selection of the work of some of the students, who attend weekly classes at New Vision, and whose art has been displayed in galleries worldwide.  

The style draws upon the voodoo tradition and the Saint-Soleil movement of Haitian painting that came about in the 1970s. In the face of natural disaster, poverty, and dictatorship, these movements in Haitian art have historically served as a means of self-expression, empowerment, and subversion of authoritarian dictatorship. New Vision gives young artists a space to explore the creative legacy of their culture in the creation of their own unique works of art.

Proceeds from this series will go directly to New Vision Art School and its students.

For more, please check out their instagram @newvisionartschool"
Fast & FREE US Shipping on all orders over $60!
(48 contiguous states)
All orders will be shipped directly from our EasternBoarder locations.  If you order items that are in both locations you may receive multiple shipments.  In this event you will receive multiple shipping confirmation emails from us w/ all of your tracking numbers.
We process orders 7 days a week and pack orders as fast as we can.  Most orders receiving tracking numbers with 3-6 hours during operating hours.
Orders over the weekend are packed and shipped however pickups are only Monday-Friday.  So you might receive your tracking number over the weekend but tracking might not update til the following Monday or Tuesday.
Please keep in mind UPS & USPS doesn't always pick up or deliver on Holidays or Weekends.
*All Vans products are excluded from International Shipping
*If within 30 days of receipt or delivery date of your order & the item is still in new condition with all packaging and/or labels you should be good!
All eligible orders can receive a refund, credit, or exchange. (See conditions of specific items & eligibility here) Standard manufacturer warranties will also be honored.
HOW TO RETURN YOUR ITEM?
Please email orders@easternboarder.com and include:
Order # or e-mail used
Item you'd like to return
Desired refund (credit, refund, exchange)
We will email you back with 24 hours setting up the return and providing you with a label.